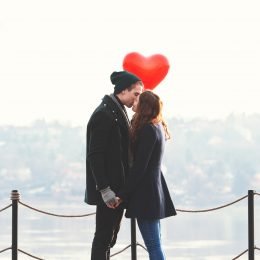 Whoever said a kiss is just a kiss? In fact, it was Dooley Wilson and Louis Armstrong in the famous film, Casablanca. However, as suggested by Mouth Healthy, a part of the American Dental Association (ADA), "before cozying up to your loved one this year, make sure your mouth is in good health because, as it turns out, a kiss is more than just a kiss."
Kissing stimulates saliva, which can help fight cavities. However, if the person you're kissing has poor dental and overall health, you run the risk of getting unwanted germs, illnesses or diseases instead of candy, flowers or cards this Valentine's Day. [Source: Mouth Healthy, ADA American Dental Association]
Mouth Healthy provides several tips for a kissable mouth this Valentine's Day. Here are just a few to keep in mind for this February 14th.
Don't be caught off guard when your sweetie sneaks up behind you. ADA approved mouthwashes and sugarless chewing gum between regular brushing & flossing will keep your breath smelling fresh and clean.
Share the love this Valentine's Day – not the germs – by using your own toothbrush.
A big smile with pearly white teeth will keep the love of your life mesmerized – talk to your dentist about teeth whitening.
For the perfect smile all year long, 

making an appointment today

 with Three Rivers Dental is key.