Vaping was initially introduced as a healthier alternative to cigarettes to help quit smoking. This might not be entirely accurate. According to new research emerging, vaping may be just as damaging to teeth as cigarettes.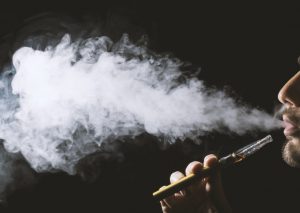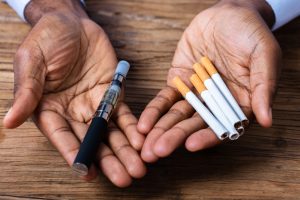 The majority of issues stem from an e-cigarette or vape pen heating, altering oral bacteria and drying out the mouth when smoking, according to a spokesperson for the American Dental Association, Matthew Messina, DDS. He says, "[The] rate of tooth decay increases, sometimes dramatically, if we dry the mouth out." Vaping can also lead to inflamed gums, overall irritation, and cell death.
It isn't just your oral health at risk here. Just this year, a patient in Illinois became the first person to die of a severe lung disease that may be tied to vaping, according to Yale Medicine. Though e-cigarettes have far fewer chemicals than regular cigarettes, they still contain a copious amount of nicotine. Because of this, vaping doesn't actually make you more likely to quit smoking, in fact, it gives teens an increased risk of smoking later in life. State and local public health departments across 22 states are now investigating more than 190 cases of severe lung disease related to e-cigarettes and vaping.
Dr. Messina says, "It's important to stress the fact that while vaping is new and is being actively studied, we have to consider vaping and cigarette smoking relatively the same, as far as the effects on the teeth and gum tissues." At Three Rivers Dental Group, your health is our top priority. We invite you to check out the American Dental Association's resources on tobacco use and its effect on oral health and schedule an appointment with us today to ensure your teeth are getting the care they deserve.