With dental implants becoming a popular alternative to dentures and partials, many patients wonder about the logistics of having a completely new smile. What is the process? How are the implants placed? What benefits do they provide? Many people also worry about the expense. Three Rivers Dental can create a custom dental implant solution to meet your unique needs. The initial exam and x-rays are free. If two or more implants are needed, the first implant is free.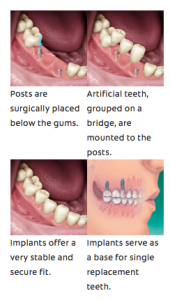 A dental implant is a post surgically implanted into the jaw, with a prosthesis (artificial tooth or teeth) attached.
These implants provide easy upkeep and more comfort than standard dentures. They are long-lasting and replicate the look and feel of natural teeth.
In a study from the American Academy of Implant Dentistry, about 3 million people have received an implant in the U.S. so far, and about 500,000 people per year receive an implant in the United States. With a success rate of 98% – more than the success rates for root canals and other common dental practices – dental implants are a safe and effective choice. Without decay, less maintenance than dentures and more protection against gums, dental implants prove to be a viable choice for many patients. Not all implants are the same. Custom options for implants are based on each individual's personal needs and issues.
There are two kinds of dental implants most widely used, highlighted by the American Institute of Periodontology:
Endosteal (in the bone): This is the most common implant type. They include screws, cylinders or blades surgically placed into the jawbone. Each implant holds one or more prosthetic teeth. This type of implant is generally used as an alternative for patients with bridges or removable dentures.
Subperiosteal (on the bone): These are placed on top of the jaw with the metal framework's posts protruding through the gum to hold the prosthesis. These types of implants are used for patients who are unable to wear conventional dentures and who have minimal bone height.
Dental implants are a popular option for many patients looking for an alternative to dentures. With the latest technology in dental equipment and procedures and highly skilled staff, Three Rivers Dental can create a custom dental implant solution to meet your unique needs. We also offer many financing options to fit your needs. Why wait? Get the smile you want at a price you can handle.
For more information, check out our video on How We Perform Dental Implants at Three Rivers Dental.