The American Dental Association (ADA) estimates more than 36 million Americans are living without teeth and approximately 120 million people are missing at least one tooth. Tooth loss is not only a cosmetic issue. It can increase the risk of infection, causing bone damage, affecting the ability to chew, and impairing dental functionality. Immediate dental care is required with tooth loss to maintain oral health, but is the best choice dentures or dental implants? At Three Rivers Dental Group, we proudly offer and support both options for optimal oral health.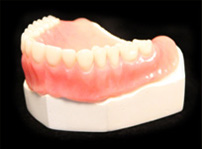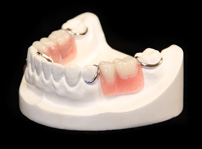 Dentures
We offer dentures starting at $419 and carry several denture options, including Comfy Fit Premium, Flexi Fit Partial Dentures and Snap Fit Dentures. Invest in good dentures and care for them regularly. With proper care, dentures will last 5-7 years without needing to be replaced. Without proper care, they may need to be replaced annually. Brush only with denture-safe toothpaste using a soft-bristled toothbrush. To retain a comfortable fit while preventing drying or cracking, store in either warm water or a denture solution. Our dentures are created to fit not just the size and shape of your teeth, but also to the contours of your face for comfortable everyday wear.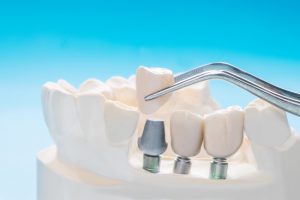 Dental Implants
A dental implant is a post surgically implanted into the jaw with an artificial tooth (or teeth) attached. Dental implants are permanent, function just like natural teeth, and, with proper care, will never need to be replaced. Dental implants can be brushed and flossed with the same dental cleaning routine as natural teeth, making oral care simple. They do come at a higher price point and carry some downtime, as putting them in is a surgical procedure. That's why Three Rivers offers comprehensive, interest-free dental payment plans to keep you covered. You'll see a price of about $1,750 for the implant post and $3,100 for the actual structure of the tooth. Right now, get more than one implant and get your first post for free. Candidates for dental implants must have adequate bone in the jaw and healthy gum tissue to be considered for the dental procedure.
Find out which option is the best fit for you by visiting Three Rivers Dental Group and speaking with one of our dental professionals. Contact us today and let us help you achieve a healthy smile again.